00

Days

00

Hours

00

Minutes

00

Seconds
Zipify Pages is an ecommerce landing page and sales funnel builder that seamlessly integrates with your Shopify store. Now publishing high-converting landing pages and sales funnels is as easy as just a few clicks. After selecting a template, it's easy to customize it to fit your store by using our drag-and-drop editor.
Burn Fat Eating the Foods You LOVE!
Designed and Tested to Bust Plateaus Fast.
SIMPLE, FAST KETO RESULTS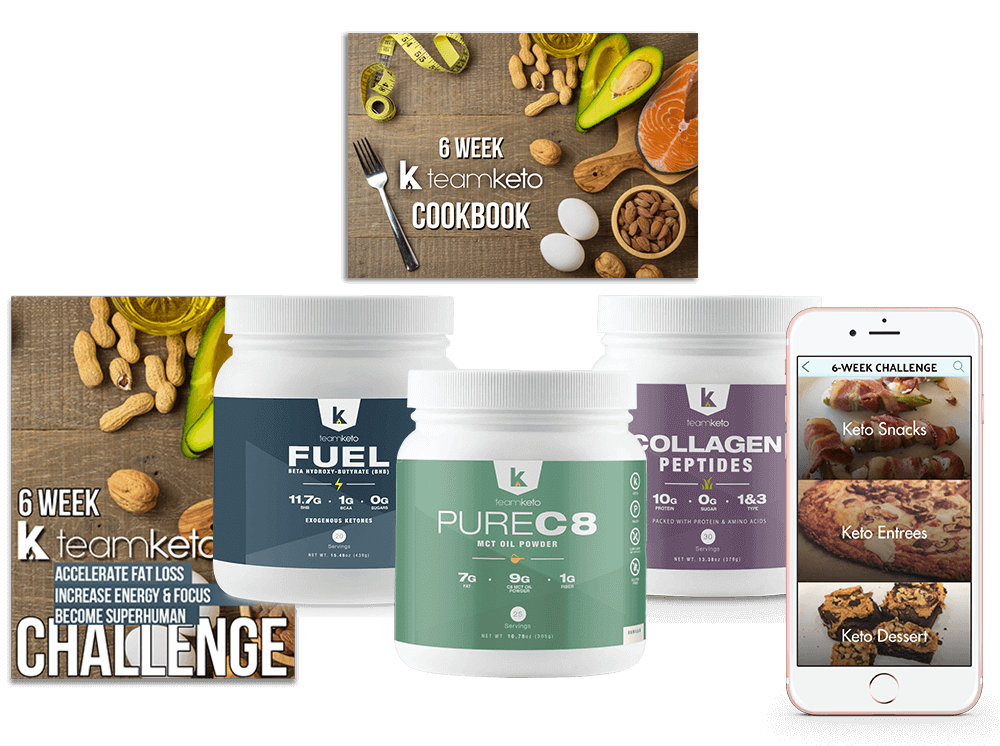 THIS IS THE ONLY PLAN THAT GIVES YOU: 
100+ Simple & Delicious Keto Recipes from our Exclusive TeamKeto Cookbook

1 Bottle of TeamKeto Fuel, C8 MCT Powder, and Collagen: $144.97 Value

Complete 6-Week Keto Meal Plan with the BEST Keto Recipes

Weekly Grocery List So You Save Time, Hassle, and Money

Expert Coaching & Support in the 6-Week Facebook Group

​BONUS: Keto Dessert Cookbook​

BONUS: 6-Weeks of HIIT Workouts​

BONUS: Intermittent Fasting Guide

And Of Course... Free U.S. Shipping!



DOES IT WORK? SEE FOR YOURSELF.
100+ Simple & Delicious Keto Recipes
Easy to make keto recipes that taste AMAZING.

Lots of variety. You'll never get bored with meals.

Ketogenic macros optimized for maximum fat burn.

Family-friendly and husband approved.

Yummy treats to help you curb sugar cravings and remain a fat-burning machine all day. 
You'll Get The Best Keto Recipes
BONUS #1: Fuel Exogenous Ketones 
($59.99 Value)
For optimal results, I recommend adding a ketone (BHB) drink during the challenge. It'll make ketosis much EASIER. Fuel provides extra ketones for energy, brain performance, and fat burn. It'll also replenish critical electrolytes to help you transition into ketosis.
Facilitates a quick switch that puts you into a fat-burning state of ketosis.

Boosts your energy, your focus, and your mental clarity by providing ketone fuel.

Replenishes your ESSENTIAL electrolytes (especially those hard to get in food).

Reduces your chance of getting keto flu symptoms (brain fog, low energy, etc).

Trains your body to produce natural ketones and controls appetite.

Helps you stay in ketosis even when you make mistakes. (Nutrition labels are tricky)

Tastes AMAZING: Makes it EASY to ditch soda and sugary drinks. You'll wonder why you ever had them before!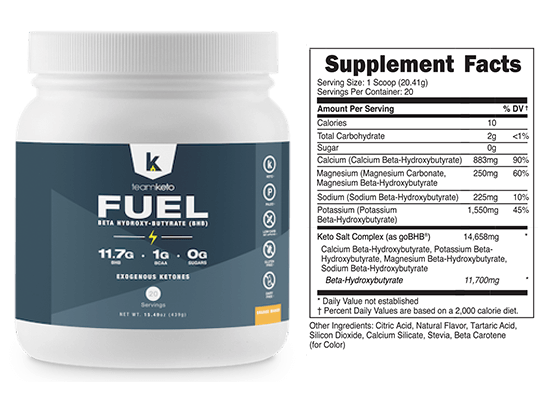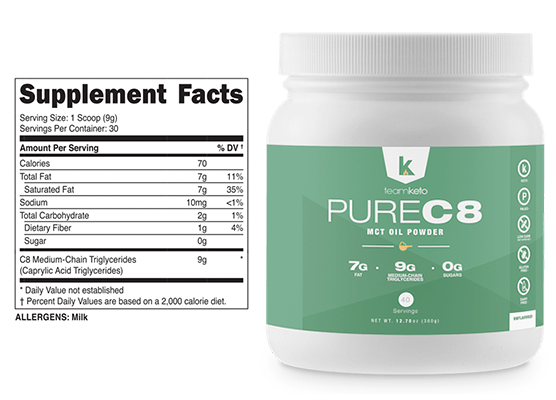 BONUS #2: C8 MCT Oil Powder
($39.99 Value)
Let's face it after years of conditioning that fat is evil the idea of switching to a diet that's 75% fat can overwhelm us. This is the biggest challenge you will have with the keto diet. Getting in 75% of fat. After al,l you can't go around eating a full stick of butter every day as much as you would like to. And as much as you would like to you shouldn't eat around a pound of bacon a day either. That's why we developed C8 MCT Oil Powder. It will help you...
Boost Ketone Levels FAST.

Makes maintaining a 75% fat diet much EASIER.

Boosts your energy, your brain performance, and your focus.

C8 MCT is superior to regular MCT (C10 & C12) because C8 produces three times more ketones!

Makes your drinks or treats creamy and delicious! (Coffee & tea, smoothies, shakes, baking treats, etc)

MCT powder will be MUCH easier on your stomach than regular MCT oil.
SURPRISE BONUS #5: 
6-Weeks of HIIT Workouts!
($99 Value)
Elevate ketone levels and BURN body fat with these specially formulated 15-Minute HIGH heart rate circuits that can torch fat as fuel for up to 24 hours AFTER each HIIT routine!

Whether your a beginner or advanced, there's a workout for you.

The exercises are designed to target stubborn fat areas.
The 100% No-Risk Promise
Order right now with confidence!
Try the 6-Week Team Keto Challenge out for 60 days and if it doesn't work for you, you'll get your money back! There's absolutely no-risk in giving it a try. No questions asked, you can get your money back!
BUY MORE, SAVE MORE...

(Scroll to View Options)
Unlike other Keto supplements, which can be misleading about true BHB levels, TeamKeto FUEL contains 11.7 grams of PURE BHB. No fillers, no additives, and no extra minerals. Nothing but pure beta hydroxy-butyrate. That means you'll have all the fat-burning benefits of exogenous ketones—only faster.
Also, most MCT products include a blend of different oils such as C12 and C10 instead of C8. C8 produces ketones much faster. This slows down the results and fat-burning benefits of taking an MCT. But that's most products. Our Pure C-8 MCT Powder isn't like most products.
Instead, it gives the body an ultra-efficient ketogenic boost.
Our goal is to meet everyone's unique keto needs and Team Keto meets those needs head-on. Get ready to increase performance and reach your full potential.
"I have tons of energy. I feel great. Orange Mango Fuel tastes like a popsicle. I love it because you can drink it anytime and it really does get me into ketosis and help me stay there. I put C8 in my coffee and it gave me the biggest boost of energy. The collagen helps my skin and nails. I highly recommend Team Keto!" -Kenzie
Created by a Keto Transformation Expert
Get Instant Access Anywhere
These guides can easily be opened on your phone, tablet, computer, or any platform.  Feel free to print them out for easy reference to instructions, recipes, and photos. No technical knowledge needed. :)
Thousands of HAPPY Customers...