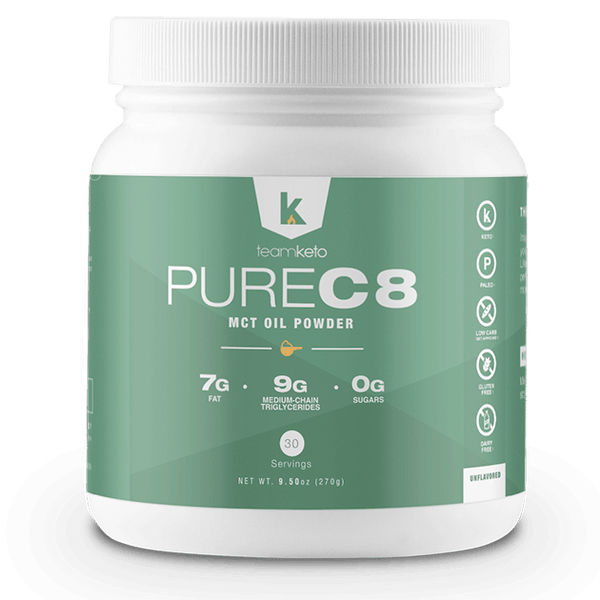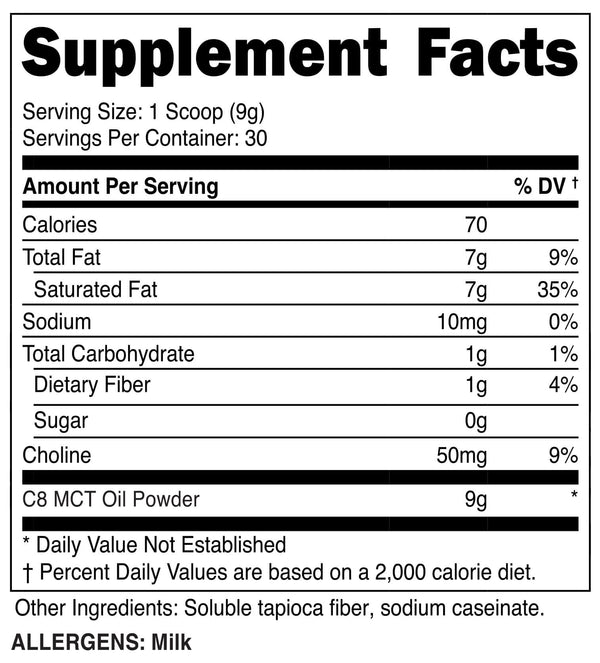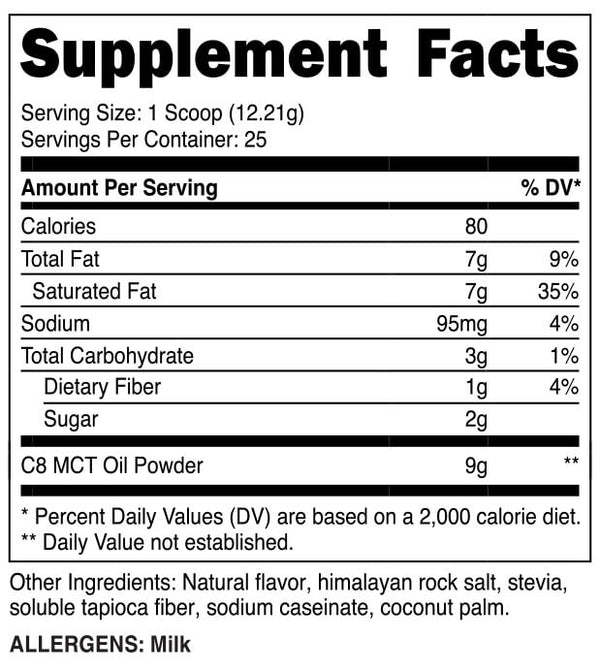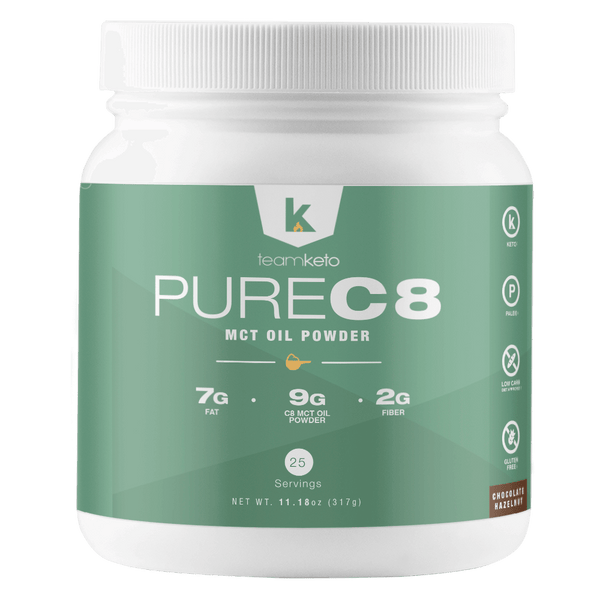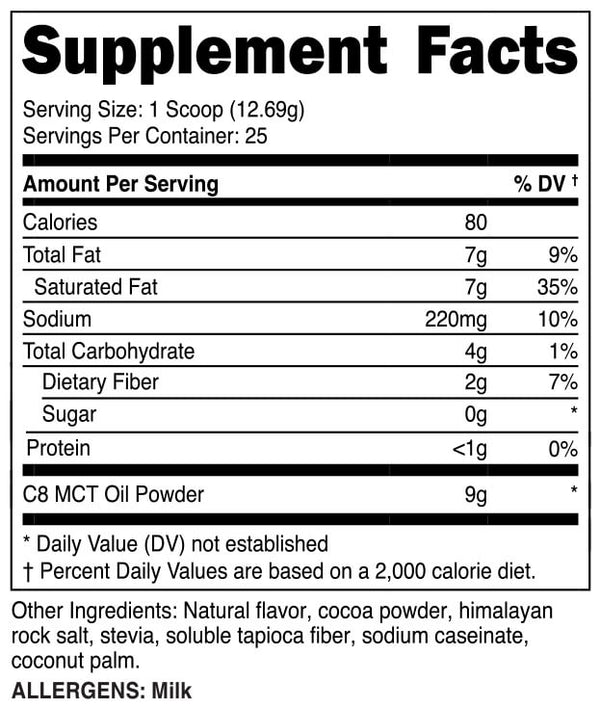 "The best coffee creamer! C8 produces 4x MORE ketones than MCT oil. It's great for baking too!"
Regular price
$39.99
Sale price
$49.99
Autoship Perks
✔ Early Access to New Products
✔ Exclusive VIP Discounts
✔ Never Run Out of Product
✔ Cancel Anytime
100% NO-RISK MONEY BACK GUARANTEE
INCLUDES FREE 15-DAY KETO MEAL PLAN
Naturally boost ketones with the single most ketogenic oil fraction found in nature.
Team Keto PURE C8 is specially purified from raw medium chain triglycerides to contain only pure caprylic acid. Considered the most precious oil fraction in coconuts, caprylic acid raises blood ketones better than any other MCT fraction or blend.
The same benefits you expect from MCTs and more:
Raise ketones faster and more efficiently.
Zero burning or strange after tastes.
Gentle on the stomach and easy to mix.
PURE C8 easily integrates into your life to make ketosis easy.
A difference you'll love:
PURE C8 induces the same ketone production as traditional MCT oil with a smaller and more delicious serving size.
A smaller effective serving size means turning keto coffee from a mess into a breeze.
Filtering out the other less-ketogenic MCTs means a cleaner boost while fasting, without unpleasant texture or stomach aches.
We're proud of PURE C8 and the innovation it provides over standard non-fractioned MCT. We invite you to read our keto warrior testimonials below and enjoy our sitewide knowledge center.
How to take PURE C8 MCT Oil Powder:
PURE C8 and MCTs in general qualify as food-supplements. That means there are several correct ways to use PURE C8 in your daily routine to support happy and healthy ketosis.
Before and after workouts:
Your Keto Kickstart trainer Preston uses one scoop of PURE C8 with FUEL exogenous ketones before exercise to extend his workouts and another scoop afterwards for increasing energy and thermogenesis guilt-free.
Increasing ketones and energy throughout the day:
Our new keto warriors often struggle with fatigue and activating bodyfat for fuel while starting the ketogenic diet. PURE C8 helps to fuel the body with a clean source of ketones while promoting the transition process to self-sustained ketosis.
Giving coffee a special kick:
Our content editor Peter swears by PURE C8 super-coffee, claiming that adding one scoop of PURE C8 greatly enhances the quality of energy and duration of effect.
Any of the above times are an opportunity to boost ketone levels and feel great.
What is PURE C8 MCT Oil Powder?
PURE C8 contains 100% caprylic acid purified from the MCTs of coconut oil. The term MCT refers to medium chain triglycerides designated by fats made up of any of the following fatty acids: caproic acid, caprylic acid, capric acid or lauric acid.
These MCTs catch our attention because of their unique ability to bypass many digestive steps and become instant energy with an extremely low ability to be stored as body fat.
Of all the MCTs, the caprylic acid that we use in PURE C8 is the most effective and valuable fraction.
You can learn all about the benefits of MCT oils and how to take them in our complete guide.
Product Details
30 Servings
7 Grams of C-8 MCT per Serving
Net Weight - 360g, 12.70 oz