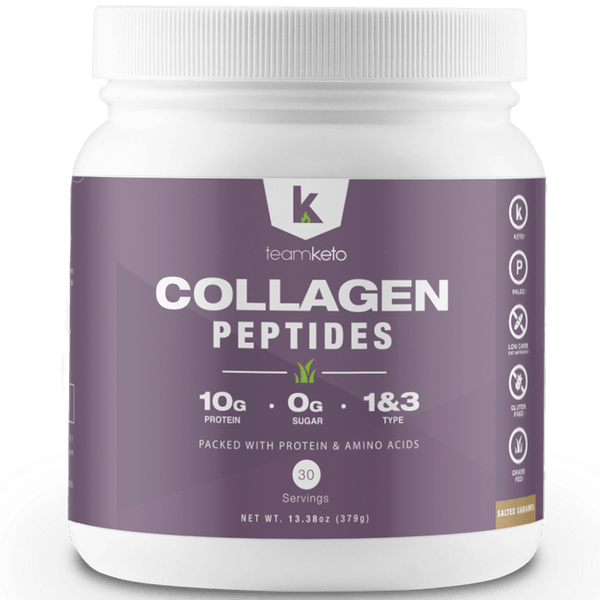 Team Keto Collagen Peptides contain highly bio-available type I and III peptides sourced from grass-fed cattle, naturally flavored to dessert-level perfection.
What makes collagen peptides unique is that they are extremely beneficial to skin health.
When taken regularly, collagen peptides increase the skins natural collagen production and helps protect current collagen from free radicals.
Benefits of collagen peptides:
Increases quantity and quality of natural skin collagen.
Helps form thicker, healthier hair and nails.
Supports recovery after demanding workouts.
Natural anti-oxidant and anti-inflammatory properties.
Promotes joint hydration and aids repair.
Beneficial to all connective tissues in the body.
The protein content and skin rejuvenating effect of Collagen Peptides make it the ideal daily supplement for both diet and skincare regimens.
Take collagen peptides 1-2 times daily with or without food for best results.
What Are Collagen Peptides
Collagen is the most abundant naturally occurring protein in your body. It's in every connective tissue of the body such as your skin, hair, nails, bones, joints, lungs, heart, and liver.
When you add a scoop of collagen peptides to your cold or hot liquids you are boosting all of these critical parts of our body. Collagen contains the same essential amino acids that you can find in bone broth without all the time consuming preparation.
That means clearer skin, more vibrant hair, stronger nails, joint support, faster recovery from workouts, and so much more.
How to Use Collagen Peptides
Mix 1-2 scoops into: Water (use chocolate flavor for a tasty post-workout shake), coffee, tea, smoothies, healthy recipes like entrees, desserts, gravy, or soup. Whatever you feel like!
You can take collagen peptides at virtually any time:
Alongside breakfast, lunch or dinner.
Before or after tough exercise.
In your favorite coffee or tea.
Baked into desserts like cookies!
We recommend 1-2 servings daily, depending on your nutritional macronutrient needs.
Product Details 
30 Servings
11 Grams of Protein per Serving
Net Weight - 800g, 28.23 oz