Now You Can Get Into Ketosis In One Drink and Stay There…

With Increased Fat Burn, Brain Performance, and Energy.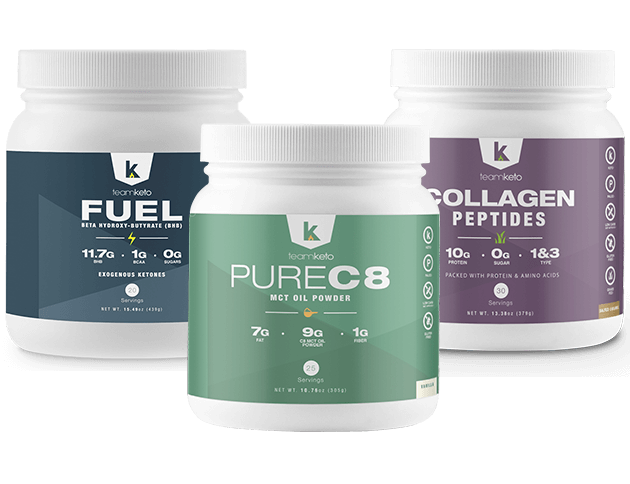 "The stack is life-changing! It makes keto so much easier!"
-Jenna, Stack Customer
Get faster results with the most essential keto products: Fuel Exogenous Ketones, C8 MCT Powder, and Collagen Protein bundled together at 22% OFF.
These products will provide a fast and effortless switch into ketosis. Think of them as the super-premium unleaded fuel for the body's fat-burning machine. Use them to crush the 15-Day Keto Kickstart.
HOW WILL KETO SUPPLEMENTS HELP YOU EXPERIENCE RESULTS FASTER?
SEE WHAT PEOPLE ARE RAVING ABOUT...

Fuel Exogenous Ketones 
For optimal results, I recommend adding a ketone (BHB) drink during the challenge. It'll make ketosis much EASIER. Fuel provides extra ketones for energy, brain performance, and fat burn. One tasty scoop of raspberry lemonade, orange mango, or lemon-lime will help accelerate your ketosis! It'll also replenish critical electrolytes you need to keep energy levels high.
Facilitates a quick switch that puts you into a fat-burning state of ketosis (in less than 60 min).

Boosts your energy, your focus, and your mental clarity by providing ketone fuel.

Replenishes your ESSENTIAL electrolytes (especially those hard to get in food).

Reduces your chance of getting keto flu symptoms (brain fog, low energy, etc).

Trains your body to produce natural ketones and controls appetite.

It helps you stay in ketosis even when you make mistakes. (Nutrition labels are tricky)

Tastes AMAZING: Makes it EASY to ditch soda and sugary drinks. You'll wonder why you ever had them before!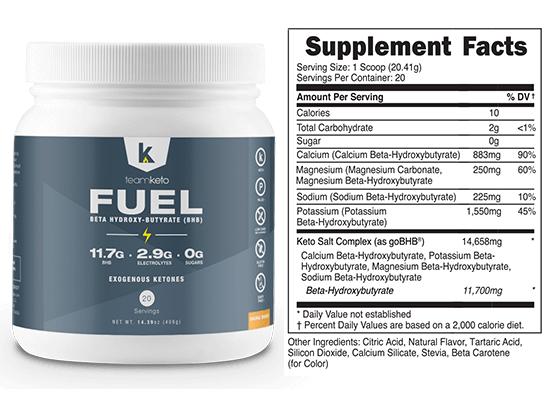 What are Exogenous Ketones?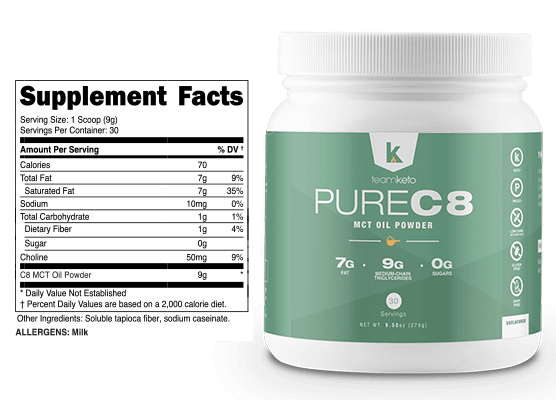 C8 MCT Oil Powder 
Let's face it after years of conditioning that fat is evil the idea of switching to a diet that's 75% fat can overwhelm us. This is the biggest challenge you will have with the keto diet. Getting in 75% of fat. After all, you can't go around eating a full stick of butter every day as much as you would like to. And as much as you would like to you shouldn't eat around a pound of bacon a day either. That's why we developed C8 MCT Oil Powder. It will help you...
Boost ketones levels FAST.

Makes maintaining a 75% fat diet much EASIER.

Boosts your energy, your brain performance, and your focus.

C8 MCT is superior to store-bought MCT (C10 & C12) because C8 produces three times more ketones!

Makes your drinks or treats creamy and delicious! (Coffee & tea, smoothies, shakes, baking treats, etc)

MCT powder will be MUCH easier on your stomach than regular MCT oil.
What is C8 MCT Oil Powder?
Collagen Peptides Protein 
Collagen is a vital nutrient for your muscles, skin, hair, bones, and nails. In fact, as you age your body produces less collagen. This is why you start to get fine lines, wrinkles, and those dreaded elevens between your eyebrows. Most people think this is unavoidable. But, if you supplement with enough collagen in your diet you can slow down these effects.
Our collagen peptides protein can help give you clearer skin, make your hair more vibrant, and give you stronger nails.

Will help you build and maintain lean muscle and can boost your joint recovery.

Low Carb & Keto Approved. (Most protein powders aren't)

Collagen contains the same essential amino acids found in bone broth. Minus all the time-consuming prep.

Supports the liver in ketone production.
Tastes AMAZING. By the way, if you haven't noticed we're focused on making things taste good. After all, if it tastes like crap why would we want to do it? Life's too short. This protein tastes like a chocolate milkshake. The unflavored is also great for baking.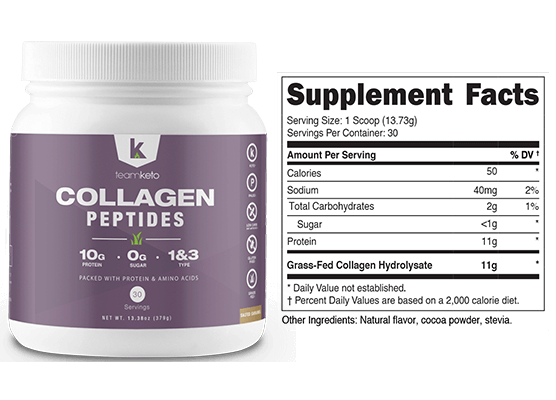 What is Collagen Peptides Protein?
The Best Tasting Keto Products in Existence...
"I have

tons of energy.

I feel great. Orange Mango Fuel tastes like a

popsicle

. I love it because you can drink it anytime and it really does get me into ketosis and help me stay there. I put C8 in my coffee and it gave me the biggest boost of energy. The collagen helps my skin and nails. I highly recommend TeamKeto!" -Kensie
Shop with us
today

and see the Team Keto difference!
60-DAY 

MONEY BACK GUARANTEE
Order right now with confidence!
Our industry best 60-day Money-Back Guarantee states that either you're 100% satisfied or your money back. There's absolutely no-risk in giving it a try. No questions asked... you can get your money back!
BUY MORE, SAVE MORE...
(Scroll to View Stack Options)
100%
NO-RISK

MONEY BACK GUARANTEE
Thousands of HAPPY Customers...
WHY TEAM KETO?
We hold our products to the highest ketogenic standard to help you get the best results as fast as possible.
Unlike other Keto supplements, which can be misleading about true BHB levels, TeamKeto FUEL contains 11.7 grams of PURE BHB. No fillers, no additives, and no extra minerals. Nothing but pure beta hydroxy-butyrate. That means you'll have all the fat-burning benefits of exogenous ketones—only faster.
Also, most MCT products include a blend of different oils such as C12 and C10 instead of C8. C8 produces ketones much faster. This slows down the results and fat-burning benefits of taking an MCT. But that's most products. Our Pure C-8 MCT Powder isn't like most products. Instead, it gives the body an ultra-efficient ketogenic boost.
Our goal is to meet everyone's unique keto needs and Team Keto meets those needs head-on. Get ready to increase performance and reach your full potential.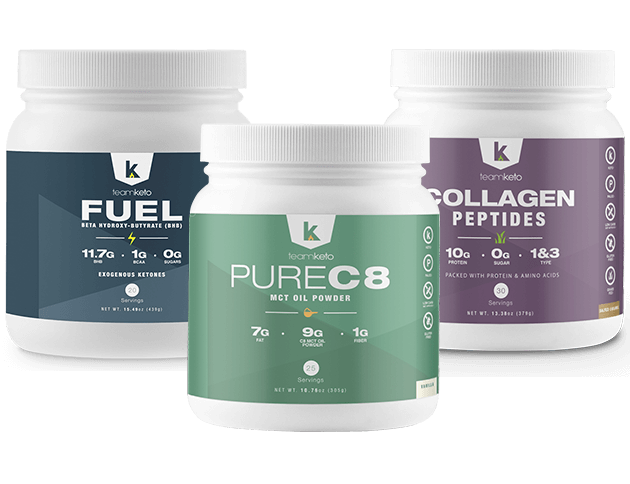 FIRST CLASS CUSTOMER EXPERIENCE
Team Keto is the world's leading all-natural keto supplement line. We are a fast-growing company because we always put the customer first.
A customer-centered shopping experience has always been our goal and we pride ourselves in our comprehensive policies that have put us in a realm above and beyond our competitors. Shop with us today and receive a Special Discount!
60-DAY Money Back Guarantee!