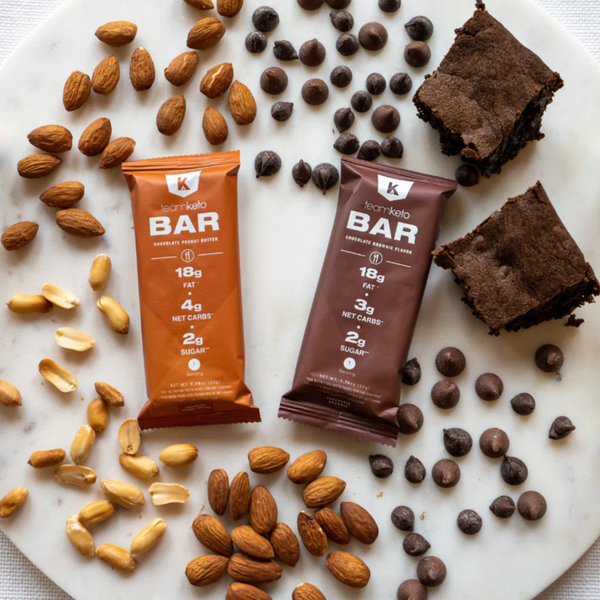 The TeamKeto Bar is a delicious and filling meal replacement treat without the guilt. Packed with REAL FOOD ingredients including MCT and collagen, this bar is an easy way to get your keto macronutrients while still satisfying sweet cravings.
With our chocolate brownie and chocolate peanut butter flavors, you'll think you're eating dessert. You'll also love its on-the-go convenience!

- Tastes Like You're Having a Dessert
- Perfect Texture and Perfect Chunks
- Unnoticeable Effect on Blood Sugar
- Gluten-Free, Low Carb, & No Added Sugar
- Made With ONLY The BEST Real Food Ingredients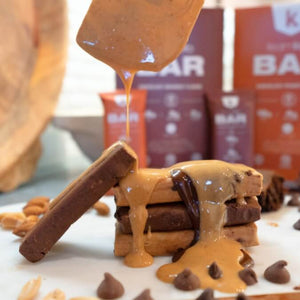 Irresistibly Satisfying
Ready to sink your teeth into pure delight? Our Keto Bar is rich & decadent with the soft, chewy texture of a homemade treat. You'll get a blast of goodness in every bite with indulgent flavors like Chocolate Brownie & Chocolate Peanut Butter. 
Say Goodbye to Cravings
Tired of junk-filled "health bars"? We've created the ultimate low-carb, gluten-free treat with simple, clean, and REAL food ingredients. There's no artificial nonsense here - just the best-sourced fats, collagen protein, and natural sweeteners to keep you full & keep you in ketosis.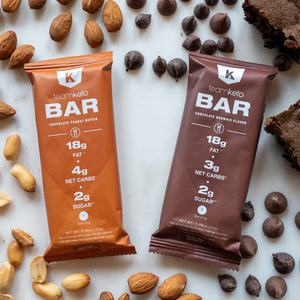 Portable & Travel-Friendly
Hungry at work? Stuck in traffic? Keto Bars are portable, convenient and mess-free for hassle-free snacking on the go. Keep them in your car, purse or bag as the perfect companion for long trips & busy days!
All-Natural Clean Ingredients
Nothing artificial. No fillers, or preservatives.
We've perfected our formula with optimal keto macros to help you get the optimal keto results you deserve. Each bar contains only 3g Net Carbs per serving with no added sugars, gluten, soy, vegetable oils, additives, fillers, or chemicals.
"BEST KETO BARS EVER"
Indulge in our amazingly tasty TeamKeto Bars and savor the instant delight on your taste buds.

TeamKeto Bars have made significant progress, and we are thrilled to announce their long-awaited arrival.

Grab yours before we sell out!
TASTE the Difference
We spent over a year formulating our keto bars to perfection. See why!
The Bar You've Been Waiting For
See why everyone is obsessed with these amazing tasting bars!
Frequently Asked Questions
What are TeamKeto Bars?
TeamKeto Bars are the tastiest, cleanest keto bar on the market with perfect macros. They have high fat content, moderate protein, low net carbs, and clean, simple ingredients that won't kick you out of ketosis. They're made with real food and high-quality ingredients that are designed to keep you in ketosis.
What makes them better than other keto or protein bars?
Unfortunately, many keto/protein bars contain terrible ingredients. There are a few "Clean" keto bars on the market but the problem is… they taste BAD. (chalky texture, are oily, or have a weird aftertaste)
We wanted to make the first truly clean keto bar that TASTES GOOD with a soft, creamy texture that isn't chalky or crumbly.
That's why we spent over a year developing the perfect formula and taste. We tested blood sugar many times to make sure the bar didn't spike blood sugar and supported ketosis.
The end result is a bar is made with simple, clean REAL food ingredients AND tastes good.
How do they taste?
We've done countless taste tests to make sure they taste like an indulgent treat! 
Our Keto Bars are rich & decadent with the texture of your favorite brownie, cookie, or treat.
Chocolate Peanut Butter tastes like a Reeses Peanut Butter Cup with homemade peanut butter
Chocolate Brownie tastes like a decadent brownie!
They also have an amazing texture that's nice, chewy and soft. 
Has crunch and or chunks.
NOT chalky, dry, chewy, or grainy/sandy (doesn't crumble easily).
NOT bland or bitter tasting
Consistency of fudge brownie mixed with no-bake cookie
And unlike other keto bars that taste manufactured and have a weird, artificial aftertaste, our Keto Bars don't use too much stevia which lingers on the tongue and fills your whole mouth with sweetener flavor.
Are there any artificial ingredients?
No. We don't use any artificial sweeteners, vegetable oils, additives, sugar alcohols, corn fiber syrup, or chemicals that will kick you out of ketosis. We also don't use any cheap fillers or stabilizers that many other keto bars do.
We use only the best sourced fats, collagen protein, and natural sweeteners like monk fruit and stevia.
We're here to give you a product that is truly keto and give you energy without compromising your health and taste buds.
Are they gluten-free?
Yes, our keto bars are gluten-free, soy-free, and free of sugar alcohols.
What are the benefits of eating Keto Bars?
Here's what you can expect when you make TeamKeto Bars a part of your daily routine:
You'll always have a snack on hand to curb hunger and cravings
You'll never worry about artificial ingredients that kick you out of ketosis
You'll nourish your body with health-boosting collagen and MCTs
You'll find it easier to stay on track during busy days and traveling
You'll stay full for hours thanks to the high Fat and Protein content
You'll indulge your taste buds in a delicious flavor that feels like you're cheating
What are the macros?
TeamKeto Bars contain an optimal macro ratio consisting of:
18g Fat
13-14g Protein (depending on flavor)
3g Net Carbs
13g (Total Carbs) - 7g (Fiber) - 0g (Sugar Alcohol) - 3g (Allulose) = 3g Net Carbs
240 Calories per serving
No added sugar
Are they easy to travel with?
Yes! Our Keto Bars are not oily, making them easy to travel with as they don't melt easily or make a mess. Keep them in your purse, car, or wherever's most convenient!
Are Keto Bars healthy?
Yes, our Keto Bars are actually good for you thanks to the all-natural ingredients and included Collagen + MCTs.
They can also be acceptable substitutes for whole meals, especially during busy days (when you need a quick meal) or when you're surrounded by unhealthy options like junk foods.
How many Keto Bars should I eat each day?
Because Keto Bars have a lot of fat, it's good to only eat 1 or 2 each day. This helps avoid upset stomachs. If you do get a stomach ache, try eating less.
What's the best way to keep these bars?
Keto Bars can get soft if they get warmer than 75 degrees. So, it's best to keep them in the fridge or somewhere cool.
Will Keto Bars make my blood sugar go up?
Nope. Keto Bars are made with special ingredients that won't make your blood sugar rise. We make sure of this so you can stay in ketosis, which is important when you're on a keto diet."
What are Keto Bars sweetened with?
Our Keto Bars are is naturally sweetened with Stevia and Monk Fruit, a zero-calorie and keto-friendly sugar substitute which will not spike blood sugar levels. TeamKeto Bars contain zero artificial flavors, chemicals, or preservatives.
Can I just eat Keto Bars for ketosis, or do I also have to follow keto macros?
Keto Bars are a great option for when you're busy, traveling, or don't have time to cook. You do still want to follow the keto macro guidelines to keep yourself in ketosis though.
What if I don't like the flavor?
You can simply take advantage of our 100% money-back guarantee if for any reason you don't like our delicious Chocolate Brownie and Chocolate Peanut Butter flavors.
Will this help with my sugar cravings?
Absolutely! The delicious and sweet (but not too sweet!) taste of Keto Bars is a great supplement for many reasons, but one of the biggest is it helps fight sugar cravings.